Print resources
The Ministry is working to make hard copy learning resources available to students without Internet access.
Ordering of NCEA subject-specific hard packs through the Salesforce Data Collection Portal has now closed.
While students are back at schools and kura, there may still be occasions where certain students have to stay home for a length of time e.g. where they are in isolation. While many will be able to access the classroom programme online, some students may need a hard pack and you will be best placed to put it together and provide it in a way that best suits the student's needs.
If you identify cases where you need additional support for these students, we encourage you to contact your regional office to discuss what support may be available.
There are limited numbers of these hard copy learning resources available and we want to make sure these get to the students that really need them. Please work with your staff to identify students who cannot access online resources and decide which resources would be most beneficial to them.
You can view the catalogue of print resources available to order here:

NCEA print titles (Excel 2007, 25 KB)

NCEA print titles (PDF, 99 KB)
Ordering process
As shown in the following process diagram, you can browse the range of hard copy learning materials available in the tables below and identify which ones your students need. You will then need to send your list to the member of staff your school or wharekura has nominated to collate and place your order through the Salesforce Data Collection Portal.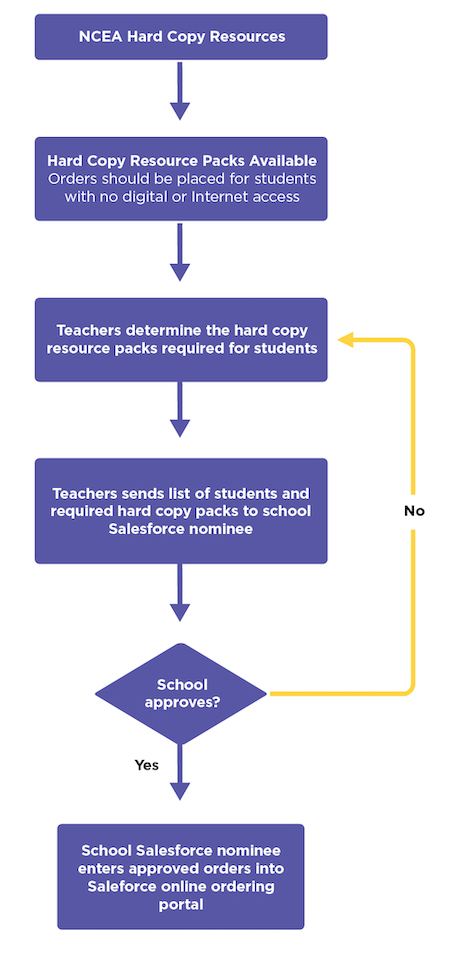 Make sure you identify:
the name of the student the resource is for
the product code
the product name
the NCEA level. 
All hard copy learning resources are supplied and delivered free of cost. Once your orders have been submitted the resources will be delivered directly to students at their address.
Vocational Education and Industry Resources
If you are selecting resources for a vocational programme or resources for an industry unit standard, please note that some of the standards require schools to have additional consent to assess.
The Youth Guarantee website has information about which standards may require additional consent to assess. It also has information and notes for specific standards which may include a practical component or require specific assessment conditions.