Vocational Pathways internal assessment resources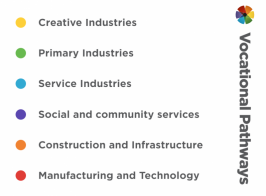 Vocational Pathways help students see how their learning is valued in the real world by aligning standards that can be achieved through NCEA with six industries.
Vocational Pathways was developed to ensure students gain a better understanding of how their NCEA studies apply to the world of work, and the qualifications and skills required by industry.
These resources may be used by schools and tertiary education providers that have NZQA consent to assess the relevant achievement standards.
Read more about Vocational Pathways - Ministry of Education Youth Guarantee - Vocational Pathways.
The six Vocational Pathways industries